Looking for A Video Production Company or Videographer in West Palm Beach, Florida
Owner operated
Single or Monthly Videos
On Time
On Budget
2-3 Week Turnaround time from production date.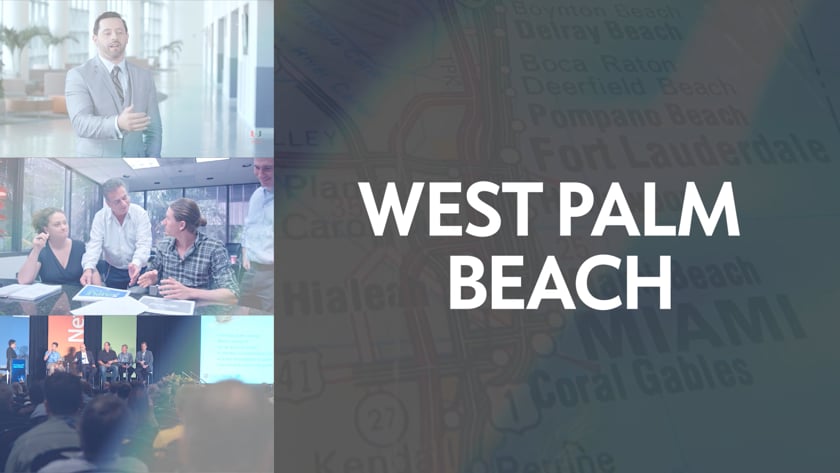 Video Production Company West Palm Beach, Florida near me
Video Production in West Palm Beach, FL with Zipinmedia
Zipinmedia is a video production company for West Palm Beach. Located right here in South Florida, our team has partnered with dozens of different companies and organizations in West Palm Beach – and throughout Palm Beach County – producing high quality video for marketing, advertising, branding, training, and more.
It doesn't matter if your business services tourists, locals, or national/international customers. We offer every service that you may need, with video that will exceed your expectations. Give us a call at any time at (305) 482-1285 for more information about our services, or to give us background on your project.
Local Video Production in West Palm Beach
Like many video production companies, many of our customers are located well outside of Florida. But as a team that's local to West Palm Beach, there are advantages that we can bring to your video that are not always possible with other production teams:
B-Roll Footage – Because the economy of West Palm is so tourism focused, there are situations where we'll need footage of beaches, the cityscape, the exterior of a building (eg, the convention center), and more. Rather than purchase stock video, we can send a videographer to the location, able to shoot real-life scenes that add to the personalization of the final video.

Event Video – Event video is one of our specialties. Because West Palm houses so many local events, we can make sure that we always have a videographer – and usually multiple videographers – in attendance that can live stream the event, conduct interviews, and capture footage for promotion, social media, and more.

Your Partner – One of the ways that we try to stand out here at Zipinmedia is that we not only create video – we serve as an extension of your company. We're a partner in your success, available for ongoing video production as needed to better serve your needs. Because we're near you, we can schedule in person meetings, bounce ideas about local places, and make sure that we're getting to know you and how you want to represent yourself.

One of Our top customers in West palm Beach is Rescue Clean 911.
Different video has different needs. But Zipinmedia is there to evaluate those needs and combine artistry with technical skill to create video that successfully disseminates the message you're trying to share, with the audience that you hope to reach. Because we're local, we're able to offer even more services that meet your needs, ultimately turning your vision into a reality and helping you with your success.
| | |
| --- | --- |
| Monday | 8:00 AM - 7:00 PM |
| Tuesday | 8:00 AM - 7:00 PM |
| Wednesday | 8:00 AM - 7:00 PM |
| Thursday | 8:00 AM - 7:00 PM |
| Friday | 8:00 AM - 4:00 PM |
| Saturday | Closed |
| Sunday | Closed |
Video Production Services West Palm Beach, Florida
What We Offer – Video Production for Any Need
At Zipinmedia, we consider ourselves full service. We have been crafting high quality video for over 10 years, partnering with companies across dozen of industries. We have worked with individual startups, "mom and pop" stores, SMBs, and even Fortune 500 companies. The question is not who you are, but what you want to create. Some of our video production services include, but are in no way limited to:
Event Video for Conferences, Trade Shows, Corporate Events, and More
With its climate, beaches, hotels, and tourist attractions, West Palm attracts events all throughout the year. Trade shows are especially common, with exhibitions and conferences on an almost daily basis in the Palm Beach County Convention Center, or at some of the local hotels and beaches. There's SunFest, the International Film Festival, and countless others that all take place in or very close to West Palm.
Event video helps capture these moments, making it possible to disseminate them internally and externally to your ideal audience.
It starts with our live streaming option. Our videographers are available to livestream your event via social media or other channels, giving people the chance to "attend" from anywhere in the world. Our live streaming is one of our newer services as an event video company, but it has opened the door for many events to reach a greater audience and improve the success of the event.
Each event also has moments that should be remembered, and can be recycled into captivating video that helps others feel like they're there. Some of the West Palm Beach event video production that we've been tasked with creating includes:
Promotional Videos for Future Events

Engaging Recaps of Past Events

Speaker, Guest, and "Man on the Street" Style Interviews

Stage Event Videos

Footage for Social Media Sharing
We can also record "TED-Talk" style speaker videos, or provide clips of stage events. We attend panel discussions and can also create video that can be repackaged via media kits of some of the most notable information to come from the event.
We send our event videographers to grab the highest quality footage from all of the best angles. Because of the planning that we used during our pre-production stage, we're confident our videographers will successfully capture the event's best moments so that they can be prepared for the event videos that our editors will create.
Business and Corporate Video Production in West Palm Beach
Video has become the top tool that businesses of all sizes have adapted into their marketing, messaging, and outreach campaigns. But few businesses have the resources to pay and create an entire video production team in house. That is why we act as a partner of your success, handling any type of video you need at competitive costs that are less than in-house teams.
We are available for video production on demand, with businesses contacting us only when they need a single piece. We are also available for monthly contracts that deliver consistent video at a discounted rate. Whatever your business needs, our team will make sure it is completed on time and on budget.
Within the field of corporate video, Zipinmedia can provide:
Video for Advertising and Commercials

Video Marketing including Promotional Video

CEO Messaging Videos and Onboarding Videos

Behind the Scenes Videos and Testimonials

Interviews and Company Profile Videos

Team Building Videos and Employee Messages

Customer Service Videos, including FAQ and How-to Videos
Corporate events are welcome to inquire about our event videography, and we are able to provide unique video styles like Micro-moments, which are often used on social media and within the online advertising field.
As your marketing partner, we create the videos you need – whatever they may be. Working with businesses of all sizes, Zipinmedia has become the top choice for corporate video in West Palm Beach, and we're happy to hear your ideas and see how we can develop the video that shares your message.
Corporate Videographer Services in West Palm Beach, Florida
Product Video, Training Video, and Other Video Production
Because we're a full service video marketing and production company, we continue to offer services and support for the different needs that may arise for your organization. Examples of some of the services and video that we provide include:
Product Video Production – Used on Amazon, eCommerce sites, and on your own company website, our product video can help those shopping or doing research online feel as though they have your product in their hands. It allows them see it used, hear promotional or technical information, and get a feel for what they can receive if they choose your product.

Training Video – Videos are such an effective way to share information, that more and more companies are finding that video can be a cost effective way to develop training materials across a variety of settings. Training video production is especially valuable in this new COVID-19 world, limiting in person contact without sacrificing quality. With our training video production we can create multiple types of corporate training videos, including customer service training, employee training, internal communications, IT training, along with videos for customers. Online walkthroughs are becoming increasingly popular, as are training products for companies to sell.

Social Media Video – Video is now the preferred way to build a social media presence. Some websites, like Facebook and YouTube, allow businesses to create "shows" that can be disseminated as well. Professional video can also be used as a background on website sliders, or as their own complement to your blog.

Other Videographer Services – Videography is our specialty, with a technically skilled team able to create the footage you need and craft amazing videos based on your goals. Because we're local, we can go anywhere we need to be throughout West Palm Beach, making sure that you have a video team ready to take on any video idea you have.
That's what makes Zipinmedia different from other video companies. Our role is not just to create video – it's also to help you reach your goals, no matter what type of video production you need to get there.
Video Production West Palm Beach, Florida Examples
All
Non-Profit
Corporate Video Production
Financial
Training Video Production
Medical
Testimonial Video Production
Social Media Videos
Product Video Production
Event Video Production
Trade Show Video
Animated Video Production
Conference Video Production
All
Non-Profit
Corporate Video Production
Financial
Training Video Production
Medical
Testimonial Video Production
Social Media Videos
Product Video Production
Event Video Production
Trade Show Video
Animated Video Production
Conference Video Production
Video Production West Palm Beach, Florida Reviews
Video Production West Palm Beach, Florida Costs and Pricing
2 Min Small Business Package
This Package is for small and medium local businesses, looking for a simple single interview with the owner, we will also capture b-roll of the location.
Single Camera & Crew Member

Simple Editing | Interview Style
3 Min Small Business Package
This Package is for small and medium local businesses, looking for a simple single interview with the owner, we will also capture b-roll of the location.
Single Camera & Crew Member

Simple Editing | Interview Style
1 Min Small Business Package
This Package is for small and medium local businesses, looking for a simple single interview with the owner, we will also capture b-roll of the location.
Single Camera & Crew Member

Simple Editing | Interview Style
Industries we serve in West Palm Beach, Florida
Videography services in West Palm Beach, Florida
From Goal to Final Product and Beyond
Our commitment to helping our clients is seen with the way we approach video production. All we need from you is a goal. Once you've filled us in on the purpose of your video, our production team is able to handle everything else. We provide you with access to your own online project management portal, where you can see what we're doing and provide feedback as needed. Our production process includes:
Pre-Production:
Storyboarding

Scripting

Interview Preparation

Scheduling Third Parties (Actors, Makeup Artists)

Renting Rooms and Staging

Animation Prep
Production:
Setup

Equipment Planning

Collecting ALL Necessary Footage

Conducting Interviews

Recording B-Roll

Filming Actors

Capturing Event Footage
Post-Production
Reviewing and Arranging Production Footage (Rough Cut)

Cleaning Footage, Adding Text/Graphics, and Integrating Feedback (Fine Cut)

Color Corrections and Refining Sound (Final Cut)
We welcome your feedback throughout our process, but also want you to know that as an extension of your business, the amount of feedback you provide is up to you. We want to reduce your workload, and as your partner, we are able to handle everything with your goals in mind.
We are also able to provide something we like to term "post-post-production." We have support services available even after the video is completed, helping you with marketing the video – or marketing your business – so that the investment you are making in your video – and your business – is able to provide you the best possible payoff.
If you need help with other forms of marketing in West Palm Beach, our team is always ready, with web design, content writing, SEO, digital advertising, and more.
Available Across Industries in West Palm Beach, FL
We are here to partner with organizations, providing one time video production service or ongoing support. After these 10 years of growth, our video production business has been able to create video for a number of different industries and economic sectors, including – but not at all limited to:
Hotels and Tourism

Healthcare

Finance and Accounting

Legal Services

Marketing Agencies

Non-Profits and Religious Organizations

eCommerce Websites and Product Manufacturers

Home Services, and More
Video is at the heart of almost every major business investment, and that is why it is so important to have a partner that can guide you to your success.
Start the Process Today with Zipinmedia
West Palm Beach has something to offer. It is a growing city that the locals here love. It is business friendly, encouraging more companies to start here or move here. And it is a beloved venue for both national and international events.
But no matter why you're here, it helps to know you can turn to a company that is ready to provide the video your organization needs, no matter what its purpose may be. If you're ready to get started, or you'd like to learn more about Zipinmedia, please contact us today at (305) 482-1285.
Video Production West Palm Beach, Florida FAQs
Whats your starting rates?
$1800.00 for a 45 sec video which includes a 2 hour production.
Do you create Corporate Videos?
Yes we will help large and small companies develop there Branding, using video.
Post Production Services Offered?
Yes, we have a wide verity of post production services which includes, graphics, Voice over, animation, motion graphics, and more...
Do you provide a Full Service Videos production?
Yes. We will provide the crew, equipment and editing all within our production house.
Typical Turnaround Time for Most Projects?
Typically we turnaround projects within 3- 4 weeks. If you have more urgent needs, we make exceptions just talk to use about the deadlines and we will work backwards from the due date to meet your timeline.