Looking for A Miami Video Production Company?
If you're looking for the #1 Miami video production company, you've come to the right place!
Owner operated
Single or Monthly Videos
On Time
On Budget
2-3 Week Turnaround time from production date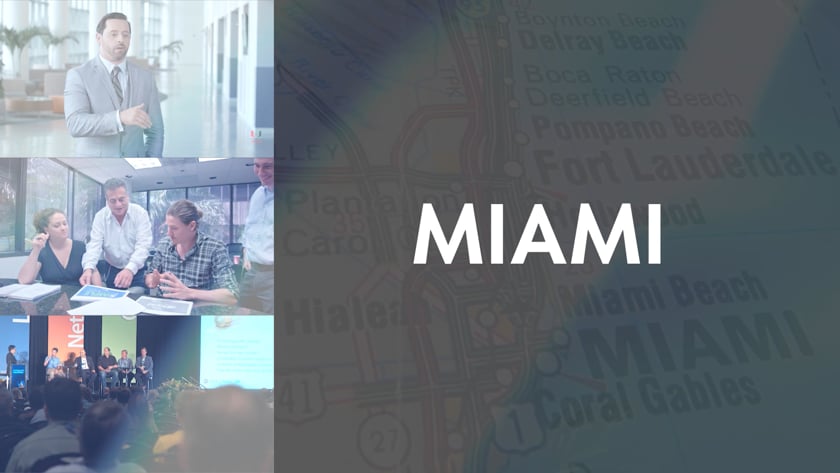 Video Production Miami, Florida Company Near Me
Miami Video Production – Zipinmedia
Miami is a city of culture. It is a place of economic opportunity. It is a hub for recreation. Entire songs are written about life in Miami, and if you've been here as long as we have, you understand why.
There's something special here. This is why our full-service video production agency is based here. Zipinmedia is Miami's best video production company, able to film and craft your story from beginning to end.
Contact us at 305-482-1285 to discuss your video projects at any time. We are happy to meet with you in person or can arrange a video call.
---
Video Production Company Based in Miami – Who We Are at Zipinmedia
Miami is our home. When we started Zipinmedia in 2008, there was nowhere else we wanted to be. Aaron, the creative director of Zipinmedia, and Ezra, the CIO, both got their degrees from the University of Miami. Brian, our co-owner, spent a few years at Florida Atlantic but returned here right after he graduated.
Our goal as a video agency is to turn an idea into a product. It's about finding the best way to craft a narrative or share a message and doing so in a way that is both artistically and technically strong. Our connection to Miami often helps drive this production.
The experience we have here in Miami is a special one. It gives us an opportunity not only to show off our video production ability but to also be inspired by what Miami offers and see the effects of the video within our local community.
We're so proud to be a part of this area and look forward to learning more about how we can assist you with your project.
| | |
| --- | --- |
| Monday | 8:00 AM - 7:00 PM |
| Tuesday | 8:00 AM - 7:00 PM |
| Wednesday | 8:00 AM - 7:00 PM |
| Thursday | 8:00 AM - 7:00 PM |
| Friday | 8:00 AM - 4:00 PM |
| Saturday | Closed |
| Sunday | Closed |
Video Production Services Miami, Florida
Your Local Miami Video Production Services
Miami has everything. That's why it's so important for a video production company to offer solutions for every type of video – and situation – that your company may want to capture. From television commercials to live streaming to employee training to event videography, companies of all different types put their trust into Zipinmedia and have been pleased with the results.
Corporate Video Production Services in Miami, FL
Miami has several headquarters for Fortune 500 companies. It also has several smaller businesses hoping to grow into corporate giants. Businesses of all sizes turn to video to help them with their marketing, branding, outreach, and employee satisfaction efforts, and in Miami, those companies often turn to Zipinmedia.
We create a video that is designed to get noticed. Most of our marketing can be used for web design, online video advertising, television, and social media. Within the corporate video production world, we are frequently contacted to provide services that include, but are not limited to:
Company Profile Videos
Behind the Scenes Videos
CEO Messaging Videos
Team Building Videos
Promotional Coverage
Corporate Photography Event Coverage
Event Videography
Direct marketing Videos
TV Commercials
FAQ Videos
Brand's identity Videos
Micro-Moments
and More
We can produce holiday videos, create onboarding videos to use in recruitment, and even do feature-length films for internal and external use when needed. The needs of our corporate clients change frequently, and we make it a goal of ours to offer the high-quality video that businesses of all sizes expect from their video marketing partners.
Corporate Videographer Services in Miami, Florida
Conference and Event Video in Miami, FL
We have videographers that attend conferences, trade shows, exhibitions, meetings, speeches, live talks, and even holiday events, and our team here at Zipinmedia then takes that footage and crafts videos that have an impact.
As most of our videos, they're used in:
marketing
advertising
social media content
promotional materials
and many more
They're a great way to build engagement and help these events continue to work for your business long after the actual event is over.
Though there is no limit to the types of event videos that we can create here at Zipinmedia, we provide videos that include the following:
Event Recaps
"Man on the Street" Videos
Guest and Speaker Interviews
Event Videography
Coverage of Conferences or Trade Shows
Stage Event Videos
Speaker Videos
Panel Discussion Replays
and More
Our live-streaming service is also popular at local events. Because we're located near you, we can show up to essentially any event with multiple Miami videographers, capturing the event from all angles and getting the footage that viewers deserve.
We handle everything, from the early stages of planning to deliver you the final product, and we are timely – able to get you the videos you need often in fewer than 4 weeks so that the event is still fresh in everyone's mind.
---
Miami Video Production Company
With most people searching for the products they need online, it is important for small businesses that sell either their own products or products through their eCommerce platform to bring as much of the real-world shopping experience as possible to the consumer.
It may not be possible for someone to touch and feel a product before they buy it. But what they can do is see a video, and get a feel for what the product would be like if and when it is in their hands.

Being local here in Miami is also advantageous. When we work with businesses outside of Florida, we often have them ship us copies of their product and do most of the shooting either here in our studio or in a nearby space that we rent.
We love working with our clients, no matter where they are located. But there are certainly advantages to being a Miami video production company. As with all of our services, we can provide you with anything you need, but some of the more common requests when it comes to product videos include:
Product Feature Videos
Product Advertising Videos
Amazon Product Videos
eCommerce Product Videos
How-to and Product FAQ Videos
Videos are great for product promotion, and their ability to help the consumer feel like they are able to imagine themselves with the product is extremely advantageous.
---
Training Video Production Agency in Miami, Florida
So many companies use our video services to provide some type of training. More effective than text-based content and more economically feasible than constant in-person training, these videos help address questions, and concerns, or provide background information on a variety of different topics.

Training video production is also becoming even more common as businesses, universities, and municipal services try to reduce the reliance on in-person training and switch to something that is more flexible.
We create training videos that effectively teach customers, employees, or anyone else what they need to learn. Some of the types of training videos that we create include:
Corporate Training Videos
Customer Service Training Videos
Employee Training Videos
Instructional Training Videos
Internal Communication Video Production
Animated Video production companies
IT Training Videos
Many companies use our service to create online walkthroughs for their products or services, helping provide a resource that individuals can use to look up information they need. Video is also useful for onboarding, introducing a new feature to a wider audience, and more.
Video Production Miami, Florida Examples
All
Non-Profit
Corporate Video Production
Financial
Training Video Production
Medical
Testimonial Video Production
Social Media Videos
Product Video Production
Event Video Production
Trade Show Video
Animated Video Production
Conference Video Production
All
Non-Profit
Corporate Video Production
Financial
Training Video Production
Medical
Testimonial Video Production
Social Media Videos
Product Video Production
Event Video Production
Trade Show Video
Animated Video Production
Conference Video Production
Video Production Miami, Florida Reviews
Video Production Miami, Florida Costs and Pricing
2 Min Small Business Package
This Package is for small and medium local businesses, looking for a simple single interview with the owner, we will also capture b-roll of the location.
Single Camera & Crew Member

Simple Editing | Interview Style
3 Min Small Business Package
This Package is for small and medium local businesses, looking for a simple single interview with the owner, we will also capture b-roll of the location.
Single Camera & Crew Member

Simple Editing | Interview Style
1 Min Small Business Package
This Package is for small and medium local businesses, looking for a simple single interview with the owner, we will also capture b-roll of the location.
Single Camera & Crew Member

Simple Editing | Interview Style
Industries we serve in Miami, Florida
Videography services in Miami, Florida
Miami Videography Services – Experienced Videographers Near you
There is a lot that goes into video production. But the videographer component requires extra special talent.
Our video producers in South Florida can be sent anywhere and everywhere in Miami, bringing with them their camera equipment, and of course their expertise. It gives you the option to create any number of different types of videos, including:
Brand and Explainer Video Production
Office Culture Videos
Social media marketing video
Creative Video Production
Sizzle Videos (Sizzle Reels)
Infographic Video Production
VLOG Video Production
Music Video
Video Testimonials
Lifestyle Video Production
Promo Clips of Live Comedy Shows, Theatre, Concerts, or Touring Podcasts
Live Review Videos
and Many Others
Every videographer on staff is ready to film the footage that will be sent to our experienced video editing team, helping to produce the final product that you expected when you partnered with Zipinmedia.
Marketing Videos, Commercial Videos, Social Media Marketing Videos, and More
Video is used everywhere. For marketing, employee training, customer retention, and more. Video can even be its own money-making tool, with how-to videos that can have their own advertising/sponsorships, or lessons can be repackaged and sold to those looking to learn.
While these videos may be professional, designed with your business's brand identity and promotional goals in mind, they are also a form of art, and our mission is to create the piece you envisioned when you commissioned it from our production team.
---
What We Need to Get Started
One of the ways that we stand out from other video production companies are in the way we manage the video process. We allow you to be as involved as you want to be.
Most of our customers come to us with nothing more than an idea or goal, and no other information or plan. We take that idea and use our 3+ step process to manage the video production in its entirety from beginning to end, and beyond.
How Our Process Works
Pre-Production
Once we have your idea or your goal, we get started on all of the pre-production work. We welcome input if you'd like to provide it, but we are also capable of running everything ourselves.
We will be there for you every step of the way, not only at the beginning but all the way through.
We can provide:
Storyboarding
Scripting
Interview Prep
Third-Party Scheduling (MUAs, Actors, etc.)
Room Rentals (for Interviews)
Equipment Planning
If you need any animations, text, graphics, translations – we plan every component, determining what we need and getting it ready so that we can go into working on the production fully prepared.
Production
Production is where all that planning begins pays off. Our videographers and video production crew will start compiling the footage we need to put your final product together.
For Miami events, we'll head to the location early (or the day prior) with all the gear we need to complete setup and testing, and then start filming the event from multiple cameras at multiple angles until the event is over.
For other forms of corporate video, we will head to your office or location and start executing our pre-production plan; interviewing staff, recording behind-the-scenes activities, and whatever else is needed to meet the goals you envisioned for this video.
If you or your staff are a part of the final production, we will also make sure everyone is comfortable and knows their role so that we are always able to compile the footage that we need for the final step in the video production process.
Postproduction
Postproduction is, in many ways, the most important part of the production.
Starting with a rough cut, our editors put together the footage in an order that tells a story.
After which we will go through a fine cut, where we begin color corrections, add accompanying graphics/text, and everything else we need to know that the video meets your needs.
Finally, we send you the final cut, which is ready to be uploaded or shared anywhere you planned for it to be. The entire process is almost always completed in fewer than 4 weeks, with frequent updates throughout the way.
Post-Post-Production
We've worked with hundreds of Miami businesses. We know from experience that, for so many of our customers, the next steps can be a challenge.
Where can we market the video?
How can we get the most from our investment?
How can we complement the video in our marketing campaigns?
We also have monthly contracts that provide more video for less investment, and we can manage every stage of the video production process for you to create videos you did not even know you needed.
---
Industry Video – Who We Work With
We have worked with everyone from Fortune 500 companies to sole proprietorships. We've worked with enterprise tech companies offering highly technical services, as well as those that offer simple-to-digest products like storage boxes or dentistry.
We are able to create any video that you've envisioned. You may have already seen our work in any or all of the following industries.
Medical
Financial/Accounting
Factory/Industrial
Education/Training
Legal
Marketing
Home Services
Real Estate
Non-Profits
Hotels
eCommerce
We partner with marketing agencies that want to offer video to their customers, along with advertising agencies that need help creating vivid ads for their purchased properties. We work with pest control companies, locksmiths, plastic surgeons, casinos/card rooms, angel investors, and countless other industries across Miami that all turn to us for their video development needs.
Get Started Today with Zipinmedia
The businesses here in Miami and the events that take place here deserve to be remembered. This city has so much to offer. You just need a Miami video production team to make it happen.
Zipinmedia is ready to be that team for you, with high-end equipment, outstanding service, competitive costs/pricing, and a local videographer crew near you that we can send to essentially any location. When you need video, it helps to have a partner that is ready to create it for you.
We offer one-time video service and monthly contracts, and we are happy to provide free quotes or you can explore the different price options that we have available right here on our website.
Located on Coral Way not far from The Mighty, we are happy to meet up with you in person if you'd like to talk about your video production needs, or we can arrange a Zoom meeting at a time that is convenient for you.
Give us, the top Miami video production company, a call at 305-482-1285 and let's get started.
Video Production Miami, Florida FAQs
Whats your starting rates?
$1800.00 for a 45 sec video which includes a 2 hour production.
Do you create Corporate Videos?
Yes we will help large and small companies develop there Branding, using video.
Post Production Services Offered?
Yes, we have a wide verity of post production services which includes, graphics, Voice over, animation, motion graphics, and more...
Do you provide a Full Service Videos production?
Yes. We will provide the crew, equipment and editing all within our production house.
Typical Turnaround Time for Most Projects?
Typically we turnaround projects within 3- 4 weeks. If you have more urgent needs, we make exceptions just talk to use about the deadlines and we will work backwards from the due date to meet your timeline.