#1 Video Production Company in Fort Lauderdale FL
Owner operated
Single or Monthly Videos
On Time
On Budget
2-3 Week Turnaround time from production date.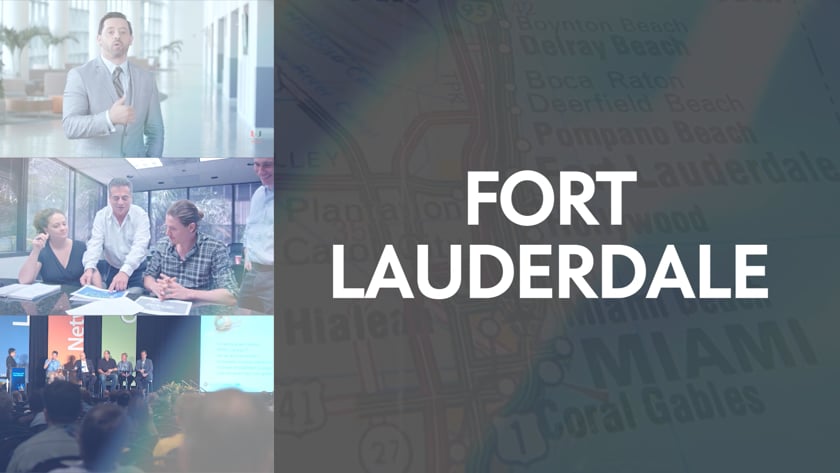 Video Production Company Fort Lauderdale FL near me
Fort Lauderdale Video Production with Zipinmedia
Ft Lauderdale is infamous outside of South Florida for its beaches and luxury. But what we've found is that that categorization is almost unfair to all that Ft Lauderdale has to offer. While it's true that we have fascinating beaches and great hotels, we also have restaurants, tech companies, home services – we have a community here that is active, vibrant, and offers so much to both residents and visitors alike.
Zipinmedia is a video production company here in South Florida, and many of our clients are in Fort Lauderdale. We produce and create videos that send a message or tell a story, with services that include live event streaming, marketing videos, and so many more. If you've been looking for a partner to help you with your video production and videography in Ft Lauderdale, call Zipinmedia today at (305) 482-1285.
| | |
| --- | --- |
| Monday | 8:00 AM - 7:00 PM |
| Tuesday | 8:00 AM - 7:00 PM |
| Wednesday | 8:00 AM - 7:00 PM |
| Thursday | 8:00 AM - 7:00 PM |
| Friday | 8:00 AM - 4:00 PM |
| Saturday | Closed |
| Sunday | Closed |
Video Production Services Fort Lauderdale FL
Why Zipinmedia is the Best Choice for Video Production in Ft Lauderdale
Colee Hammock, Tarpon River, Progresso Village, and of course Downtown – every neighborhood in Ft. Lauderdale has its own unique personality and character. The same is true for video. No two videos are ever the same. There are different styles, different messages, and different ways to combine the artistry of video with the professionalism and messaging that businesses need to capture attention. Our local clients include: Rescue Clean 911, Advanced Restoration & Company, and Broward Health. 
 After more than 10 years in video production with hundreds of local clients, Zipinmedia has created essentially every type of video. We understand that with every goal you have requires a different approach, and that we need to adopt strategies that help us drive your vision towards the end goal.
Based right here in South Florida, Ft Lauderdale has been a part of our history since the beginning. Though Ft Lauderdale may not be a big city the way Miami is, we are flush with activities, with new events that happen almost daily and plenty of thriving businesses that are fueled by our unique local economy.
It's why here in just the local area, we've provided video production across dozens of industries, including:
Hotels and Tourism

Finance and Accounting

Factory/Industrial

Education/Training

Legal Services

Marketing and Advertising Companies

Pest Control, Landscaping, and Home Services

Real Estate

Non-Profits

eCommerce
When we started Zipinmedia in 2008, we knew that we had to create a company that could offer a broader range of services. It's great to have a specialty, but the needs of our clients can change between project to project, and we need to be able to change with them in order for them to have the videos they need from a company that knows them and their culture.
So we went to work, training in different approaches to video editing, experimenting with new styles, and partnering with businesses with a wide spectrum of needs. It's what allows us to offer support for all different types of video, and always craft something that is perfect for your needs from beginning to end.
Here in Ft Lauderdale, we're here for you. You have a video idea, or a goal, or you're simply exploring what video production and video marketing can do for you, Zipinmedia's experience and dedication to the field is what will help that creation shine. As a local company, right near you, we're happy to arrange a meetup to discuss the different options we have available or chat on the phone/Zoom to find out more about your projects and goals.
Corporate Videographer Services in Fort Lauderdale FL
Our Ft Lauderdale Video Production Services
Our goal at Zipinmedia is to provide a customized approach to anything that we create. From pro-production to post-production (and beyond), we talk to you not only about what you need, but also about who you are. Every video we create should represent you in the most tailored way possible, allowing us to create video that is an extension of you.
If there is a video you have in mind, we encourage you to contact us. With thousands of videos already created, chances are we have samples and experience that is relevant to your needs. But the following are a broader overview of the many different types of products that we can create. Even if you don't see your idea here, let us know and we are sure to have something for you.
Event Video in Ft Lauderdale – For Conventions, Corporate Events, and More
Ft Lauderdale may not be the biggest city in South Florida, but it is one of the most active. Events here happen with regularity. On average, there are at least 3 to 5 conventions in the Greater Fort Lauderdale area every week, and those numbers do not even include the hundreds of other corporate events, church and synagogue events, corporate meetings, product launches, trade shows, and other events all within the Fort Lauderdale border.
Every single one of those hundreds of events has moments meant to be captured and shared. That's why our event video services are some of the most common here in Ft Lauderdale. We have professional local videographers ready to attend every event,  using their skills and experience to record the proper footage so that our post-production team can turn that footage into something even better. Our event video services include:
Event Recap Videos

Interviews and Man-On-The-Street Style Videos

Guest Speaker Features and Bios

Stage Event Videos

Floor Coverage

Promotional Event Videos, and Many Others
Every videographer we have knows how to find all of the best moments in an event. We do our best to make people comfortable, because we know in advance what type of video production we plan to create and how we need to capture the footage in order to make it into an engaging final product.
Corporate parties, trade shows, panel discussions, executive meetings, expos, conventions, concerts, plays/theatre – any type of event should have videographers, and once we have that footage, we can create any video product that will help your event last long after the day is over.
Because we also offer live streaming services, your event can reach more people than ever, with footage that can be used for many other purposes. Most of our videos can be completed in 3 to 4 weeks or less, giving you timely products to share across any media channel.
Video Production Fort Lauderdale FL Examples
All
Non-Profit
Corporate Video Production
Financial
Training Video Production
Medical
Testimonial Video Production
Social Media Videos
Product Video Production
Event Video Production
Trade Show Video
Animated Video Production
Conference Video Production
All
Non-Profit
Corporate Video Production
Financial
Training Video Production
Medical
Testimonial Video Production
Social Media Videos
Product Video Production
Event Video Production
Trade Show Video
Animated Video Production
Conference Video Production
Video Production Fort Lauderdale FL Reviews
Video Production Fort Lauderdale FL Costs and Pricing
2 Min Small Business Package
This Package is for small and medium local businesses, looking for a simple single interview with the owner, we will also capture b-roll of the location.
Single Camera & Crew Member

Simple Editing | Interview Style
3 Min Small Business Package
This Package is for small and medium local businesses, looking for a simple single interview with the owner, we will also capture b-roll of the location.
Single Camera & Crew Member

Simple Editing | Interview Style
1 Min Small Business Package
This Package is for small and medium local businesses, looking for a simple single interview with the owner, we will also capture b-roll of the location.
Single Camera & Crew Member

Simple Editing | Interview Style
Industries we serve in Fort Lauderdale FL
Videography services in Fort Lauderdale FL
Corporate Video Production in Ft Lauderdale for Local and Visiting businesses
Fort Lauderdale's economy, now no longer dependent on solely on tourism, has become an exciting place for businesses to both start and move to. The door is now open for businesses across multiple industries to grow in the Ft Lauderdale region, attracting those not only from the city itself, but the entire Miami metro area and throughout the rest of the US and the world.
On our end, this means more requests for our corporate video services. Used for marketing, social media, website content, and other forms of advertising and outreach, Zipinmedia has partnered with businesses of all sizes to produce a range of video that matches the needs of your business. We create:
Company Profiles

Marketing and Advertising Videos

Team Building and CEO Messaging Videos

B-Roll and Behind the Scenes Videos

Recruitment and Onboarding Videos

Promotional Videos

Micro-Moments

FAQ and How-To Videos
If you need a videographer for a special event, we have those as well, and we can conduct interviews either on location or in front of a setup that we create to help feature employees, customers, executives, and anyone else that may benefit your company.
For businesses that expect to require multiple videos over the course of the year, we also have monthly contracts that offer discounted rates and the same amazing service.
Video Production for Product Developers, eCommerce, and Manufacturers
The industrial sector of Ft Lauderdale has grown over the past two decades, and now more and more products are being crafted right here in the city. Sales of those items have a lot to do with branding yourself as a business that can be trusted, and showing the products that you have created in ways that reach a wider, increasingly online audience.
It's easy to see why so many of these different companies turn to video. Product developers and eCommerce websites use video production for Amazon, Houzz, Wayfair, CNet, and other online marketplaces and advertising sites. Those same companies use video for training people on their product, with how-to videos, FAQ Videos, and more. Product videos can be used for advertising on television or online, or on websites and social media to market products to consumers.
But it doesn't end there. Businesses that create products need their own branding and messaging. Because we're local with videographers near you, we can come to your location to get footage of how your production process works, interview the people that work for you, provide CEO messaging videos, and more. From product feature videos to how-to videos to real-world usage and testimonial videos, our Ft Lauderdale video production services put your product and your company into the spotlight.
Training Videos, Marketing Videos, TV Commercials, and Other Videography
What else do you want to create?
Zipinmedia produces essentially all types of videos for businesses, non profits, municipalities, and religious entities. It's what makes us the go-to choice for most organizations, because they know they can start a relationship with us and come to us whenever they need help.
So no matter what video you need, chances are we can create it. Some of our other local Ft Lauderdale video production services include:
Training Videos – We have created training videos for employees/onboarding, IT training videos, how-to videos, customer service training videos, and eLearning videos. Our training video production services can be used across many different channels.

Marketing and Advertising Videos – We create essentially any type of marketing or advertising video, including commercials (you've probably seen many of ours in the Ft Lauderdale market), Facebook and social media videos, videos for Google Adwords/YouTube, and across other forms media.

Experienced Videographers – Because every one of our local videographers are both artists and technical masters, we're able to obtain all the best footage from any place that you need us go to. We send our Ft Lauderdale videographers to the locations they need to be, each one friendly and personable to make everyone around them comfortable.
You can consider our team an extension of your company, as though you were producing videos in house. We are available for one time projects, and you're welcome to come to us "as needed' to complete the videos that you require. But we're also the marketing partner for many different industries, providing monthly video at discounts to our ongoing clients.
You tell us what type of video you need, and then Zipinmedia will handle the rest to help you create the highest quality video for the Ft Lauderdale market – and beyond.
Getting Started: An Idea or Goal is All We Need
We are an extension of your business. Our process reflects that. If you had a video production team on staff, you wouldn't need to guide their entire workflow. You'd tell them what you need, and you would expect them to create a video from that goal.
And that's what we offer.
While of course we welcome as much direction as you'd like to give, we also know that we're the experts. You're in need of video, and you expect us, your team, to figure out how to create it and get you a final product that exceeds your expectations.
That's what we do with our Ft Lauderdale video production process. You give us your goal, or your idea, or any details you'd like us to integrate, and we put it all together, starting with pre-production and leading to optional support, even after post-production. Our steps are as follows:
Pre-Production – Once we have your idea, we plan the rest. With so many different types of video, the approach we use will vary depending on the goals and what is required. For example, for event video we may book a room for interviews, determine the narrative we're looking for, and identify setup opportunities. For promotional videos we may schedule makeup artists or actors. For marketing videos we may do storyboarding and plan a script. Whatever we need, each stage is carefully planned so that we're already prepared to create an amazing video.

Production – With everything scheduled and planned, the next step is to send in the Ft Lauderdale videographer or videographers to get the footage we need. All of that preparation is designed to make production day easier, as we know in advance where to be and what we are planning to capture. If anyone on your team is part of the video, we'll also make sure that they are comfortable and that they're ready for any interviews or other footage.

Post-Production – The footage is important. But so much of the work comes in post, where everything is put together. First, we provide you with access to our project management system, because we want you to be informed of our progress and be able to provide feedback at the various stages of post-production. We then put together a rough cut, which puts most of the footage in place, followed by a fine cut, where we finalize most of the footage and added graphics/animation/text, and finally a final cut, where all the color corrections and lighting corrections take place. With the final product complete, you are ready to upload it or send it to wherever it needs to be.

Post-Post Production – For some video production companies, the process can end there. But not every business has a staff that can help that video reach the desired audience. If you need a marketing partner to help you with digital advertising, such as Adwords, Facebook, and Instagram, or you need help with supplementary services like website marketing and content writing, we have a team that can help there as well.
When you need a partner with your video, it helps to work with one company that can do it all – a company that takes some of the stress and pressure off your end so that you can focus on the tasks at hand, while we create the highest quality video available to help guarantee that you have the solutions that you hoped to see.
Contact Zipinmedia Today and Let's Get Started
We welcome you to explore our website and learn more about the different video production options we have available, and we are proud to be able to offer competitive costs that won't hurt your budget without any sacrifice in video quality.
Let's meet, either in person or on the phone, and talk about what Zipinmedia can do for you. Call us today at (305) 482-1285 to learn more about our comprehensive video production service in Ft Lauderdale, and why we are the best choice to handle any project you need completed.
Video Production Fort Lauderdale FL FAQs
Whats your starting rates?
$1800.00 for a 45 sec video which includes a 2 hour production.
Do you create Corporate Videos?
Yes we will help large and small companies develop there Branding, using video.
Post Production Services Offered?
Yes, we have a wide verity of post production services which includes, graphics, Voice over, animation, motion graphics, and more...
Do you provide a Full Service Videos production?
Yes. We will provide the crew, equipment and editing all within our production house.
Typical Turnaround Time for Most Projects?
Typically we turnaround projects within 3- 4 weeks. If you have more urgent needs, we make exceptions just talk to use about the deadlines and we will work backwards from the due date to meet your timeline.